Cobra AM655
Two-Way Radios/Walkie Talkies
Getting ready for your next hike, camping trip or other outdoor activity? This Cobra model has a compact design with 8+ km ( 4.9+ miles) range. Voice-activated (VOX) transmission frees hands for other tasks. It has five selectable tones to distinguish between different parties for incoming calls. A total of 1963 channel combinations are available when the 16 channels are combined with the 121 privacy codes (38 CTCSS/83 DCS). These combinations prevent interference from other radios.
Buy Now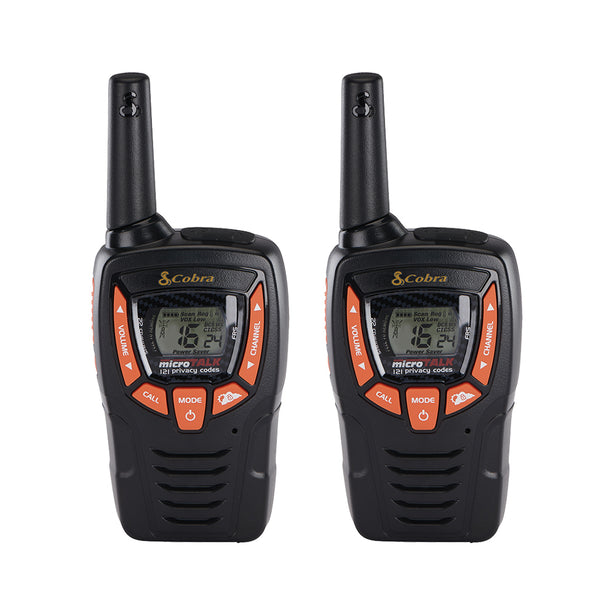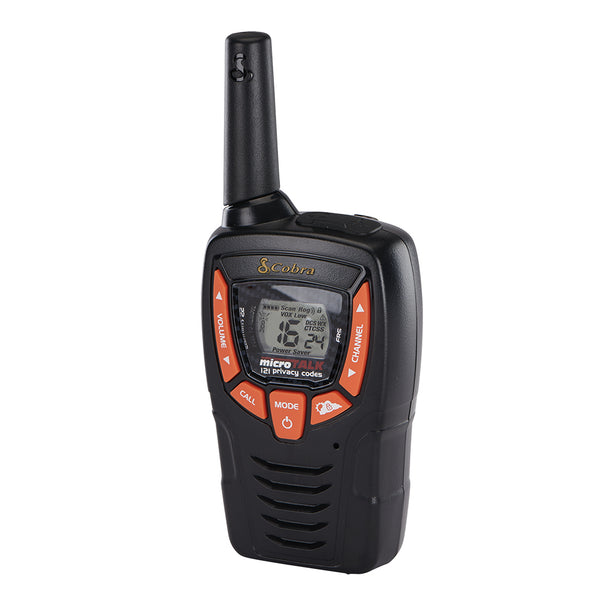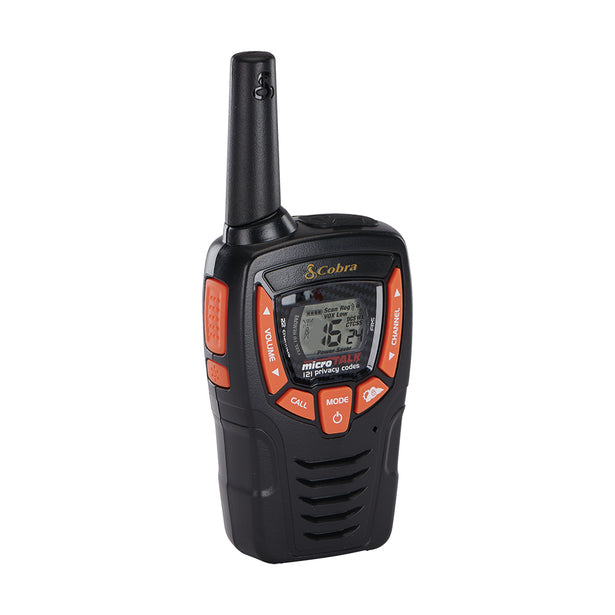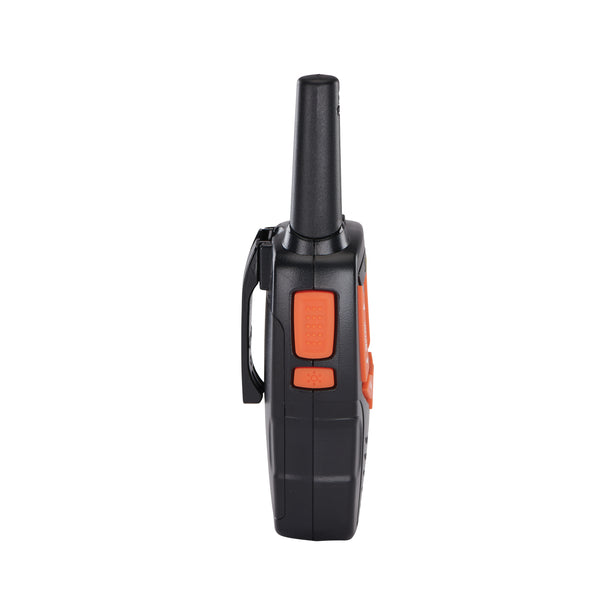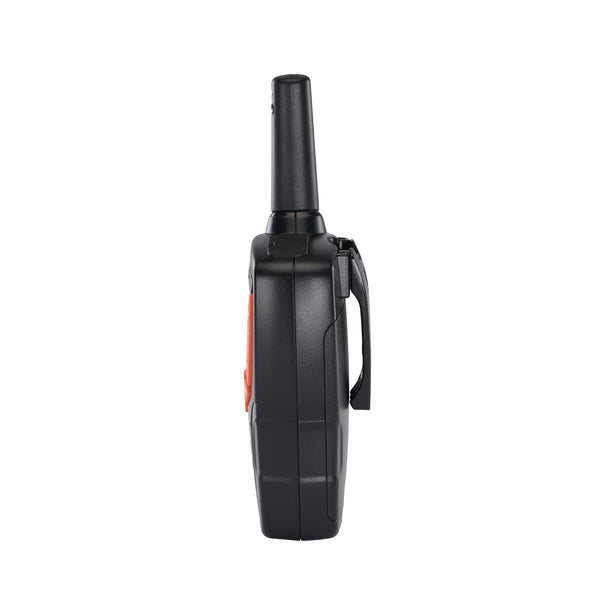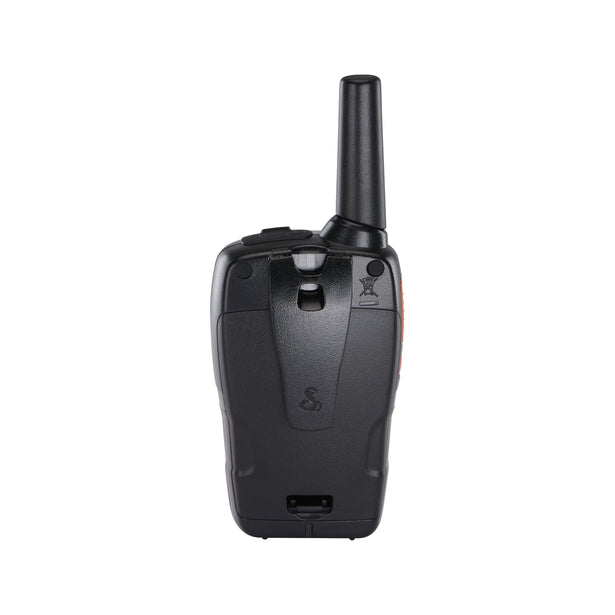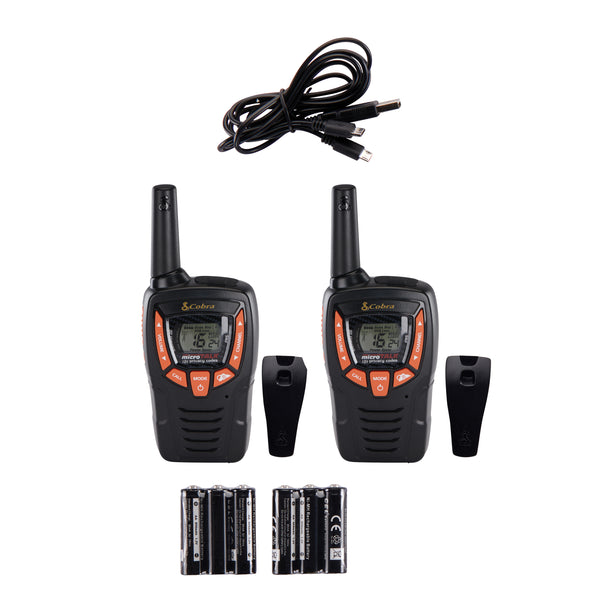 Cobra AM655
Two-Way Radios/Walkie Talkies
AM655 Rugged Two-Way Radios
Rugged and water resistant two-way radio/walkie talkie for longer-range recreational or business use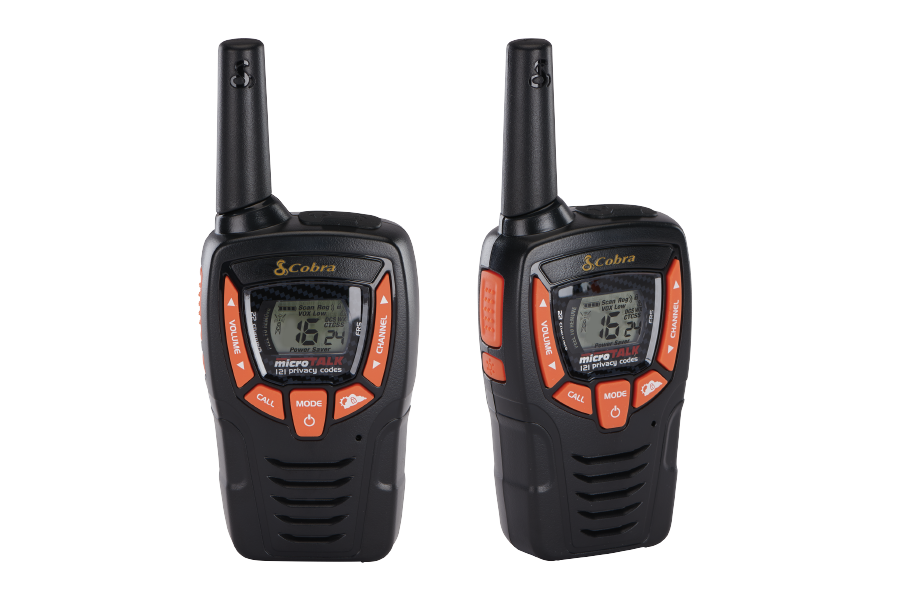 1

Rugged and Weather-Resistant

Water-resistant (IPX2) two-way radio with 8+ km range
2

COMPACT AND LIGHTWEIGHT

45 grams weight of each will not interfere with your adventure
3

12 Channels and 121 Privacy Codes

Combine 16 channels. 121 privacy codes, and 1963 Privacy Combinations, to secure your conversations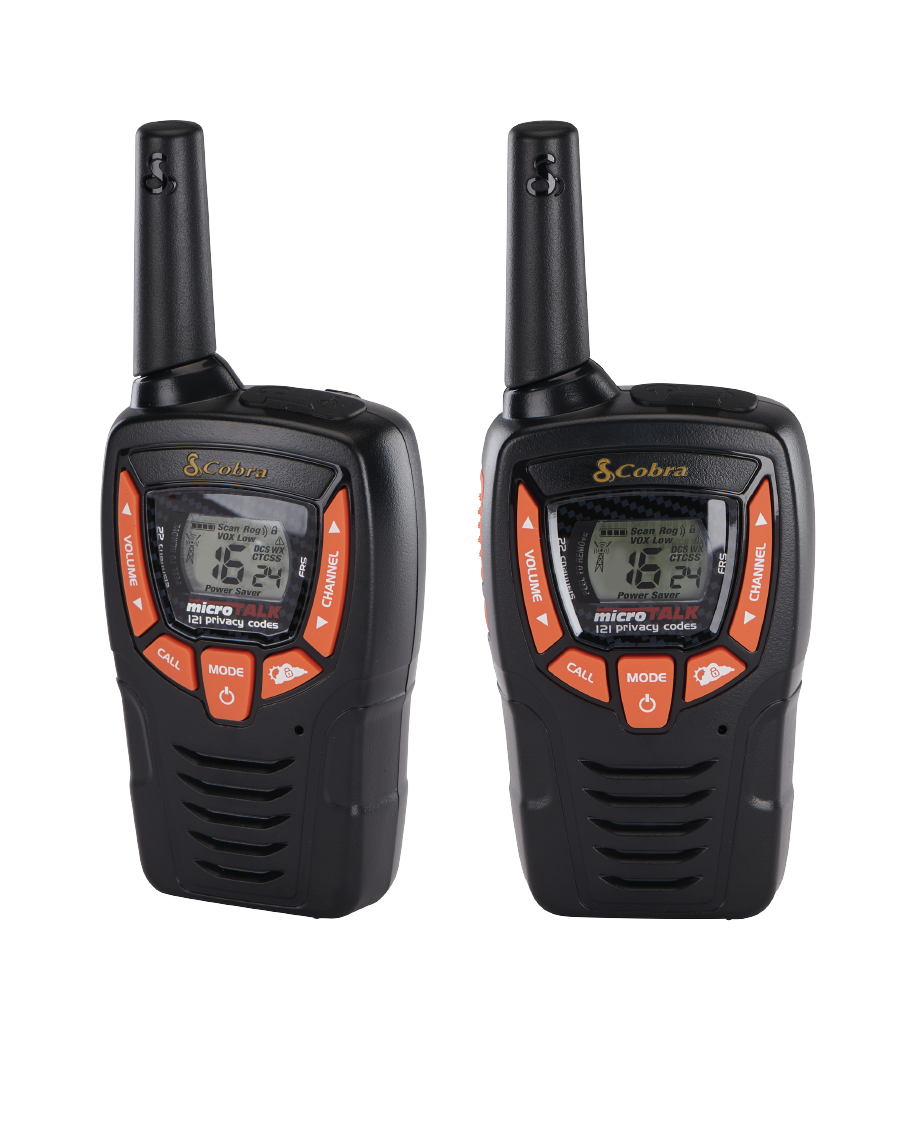 4

Voice-Activated Transmission (VOX)

Hands-free usage to automatically transmit when you speak
5

Call Tones

5 selectable tones help you distinguish between different parties
6

Channel Scan

Automatically scan channels and stop on an incoming transmission
Cobra Two-Way Radios/Walkie Talkies Are Ideal For:

Biking
Coordinate where to meet up with other bikers or let your group know where you are

Camping
Let others know your location or share your activities if you're away from your campsite
Hiking
Ensure reliable communication to share your whereabouts or if you get lost or need help

Picnics
Keep in touch when doing separate activities or if you need to be able to find others

Vacations
Use when cell phone service isn't available or to communicate with others inside a hotel

Exercise
Keep track of others when exercising with different groups or to connect with a home base
COMPARE MODELS
| AM655 | AM855 | AM1055 FLT |
| --- | --- | --- |
| Two-Pack | Two-Pack | Two-Pack |
| Batteries Included | Batteries Included | Batteries Included |
| Range (8 km+) | Range (8 km+) | Range (8 km+) |
| 16 Channels | 16 Channels | 16 Channels |
| 121 Privacy Codes | 121 Privacy Codes | 121 Privacy Codes |
| Water Resistant | Water Resistant | Water Resistant |
| Flashlight | Flashlight | Flashlight |
| Scan Capable | Scan Capable | Scan Capable |
| Patented VibrAlert | Patented VibrAlert | Patented VibrAlert |
| | | |
CLEARLY CONNECT
Cobra Two-Way Radios/Walkie Talkies help you connect and communicate clearly with your family, friends, and others.
What's Included
Two Cobra AM655 Two-Way Radios
Micro-USB Cable
Belt Clips
Rechargeable NiMH Batteries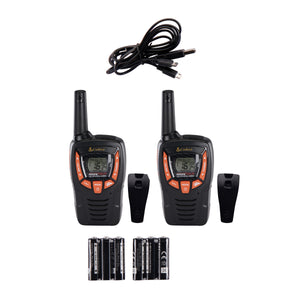 Item # AM655
Key Specs
Maximum Radio Range: 40 km
Water Resistant: Yes
Weatherband: Yes
Features
Number of Frequencies: 12 Channels
Number of PMR44 Channels: 7
Number Of Privacy Codes: 121
Channel Scan: Yes
Power
Rechargeable Battery: Yes
Battery Size: AA
Number of Batteries Required: 3
Batteries Included: Yes
Unit Dimensions
Height: 6.05" (153.62mm)
Width: 2.41" (61.3mm)
Depth: 1.55" (39.46mm)
Weight: 0.235 lbs (97.5g)
Microtalk Radios: Troubleshooting
My radios get short range
Please note that the advertised range is only under ideal conditions such as:
-Fresh batteries
-Absolutely no obstructions between the radios (for example communication over water or from mountaintop to mountaintop)
To maximize range, please make sure that the batteries are fully charged. If your radios use AA size or AAA size batteries, then you can try regular alkaline batteries.
Channels 8 to 14 are locked on low power per FCC regulations, so try using channels 1 to 7 or channels 15 to 22.
On some models you can adjust the transmit power level. Make sure it is set to HI.
Please note that use inside a building or inside a car will reduce the range.
When I turn on my radio it shows low battery
When you turn on your radio it will perform a display test. Everything will light up on the display, including the low battery icon. The display test lasts a couple seconds, after which you will get the normal operating display.
Please ignore the low battery icon during power-up. After the display test is done you can then see if the low battery icon is showing. If the batteries are low then the low battery icon will be flashing.
The CALL function is not working between different models
Cobra has used two different types of call signal: analog and digital. A digital call signal is used on models with VibrAlert, and is necessary in order to activate the vibrate feature. Models without VibrAlert use an analog call signal.
Digital call signals are not fully compatible with analog call signals. If your Cobra radio has VibraAlert, then it has a digital call signal that will only work properly with other Cobra VibrAlert models.
I purchased new batteries and they will not charge
Numerous models of Cobra handheld radios have a special feature which prevents accidentally charging alkaline batteries. If alkaline batteries are charged, they will leak!
To prevent charging alkaline batteries, the radio has a separate charge contact which touches the side of the battery.
Alkaline batteries have a plastic wrapper all the way down, so they will not touch the charge contact and will therefore not charge.
The issue is that other brands of rechargeable batteries also have a full wrapper, and so they too will not charge. The solution is to peel the wrapper from the negative end of the battery. Use a sharp knife to score all the way around, and then peel off the wrapper so that the battery looks like the picture above. Do it to all the new batteries.
Why does my radio switch to medium power when a headset is plugged in?
This is due to FCC regulations.
The FCC has set exposure limits on how much RF energy is allowed to be absorbed by your body. The transmit power must not exceed the SAR limits. The amount of allowed power will depend on variables such as the transmit frequency, proximity of the antenna, etc.
Typically when a headset is plugged into the radio, the radio is then worn on the belt using the integral belt clip. This places the antenna right up against your body. The FCC mandates that we must therefore lower the transmit power in order to stay within allowable exposure limits.
If you need absolute maximum transmit power, you will need to unplug the headset.
International Use of FRS/GMRS Radios
Can I bring my GMRS radios into Canada or Mexico?
Yes. Your Cobra GMRS radios are legal for use in the USA, Canada, and Mexico. You can freely bring your GMRS radios into both Canada and Mexico. Enjoy your trip!
Can I bring my GMRS radios to Europe?
No. Most countries in Europe have adopted a different standard known as PMR ("Personal Mobile Radio"). While PMR radios are very similar to your GMRS radios, PMR radios use different frequencies. If you attempt to bring your GMRS radios into Europe, they might get confiscated in customs.
PMR radios are currently approved for use in the following countries: Austria, Belgium, Bulgaria, Croatia, Czech Republic, Denmark, Estonia, Finland, France, Germany, Hungary, Ireland, Lithuania, The Netherlands, Poland, Portugal, Spain, Sweden, Switzerland, Turkey and the United Kingdom.
Does Cobra sell PMR radios?
Cobra manufactures and sells PMR radios and is a leading brand in Europe. PMR radios are not available in the USA because they are not FCC-approved. They are only available in European countries where PMR has been approved for use. Please visit local retailers in those countries.
PMR has been approved in the following countries:
Austria, Belgium, Bulgaria, Croatia, Czech Republic, Denmark, Estonia, Finland, France, Germany, Hungary, Ireland, Lithuania, Netherlands, Poland, Portugal, Spain, Sweden, Switzerland, Turkey, United Kingdom
Related Products