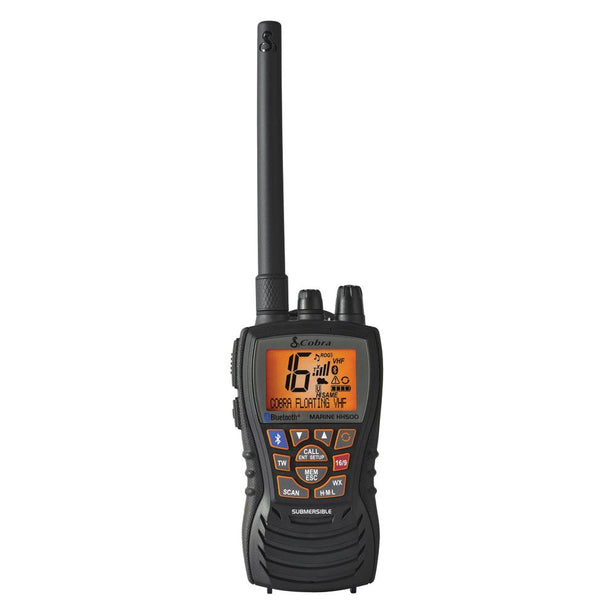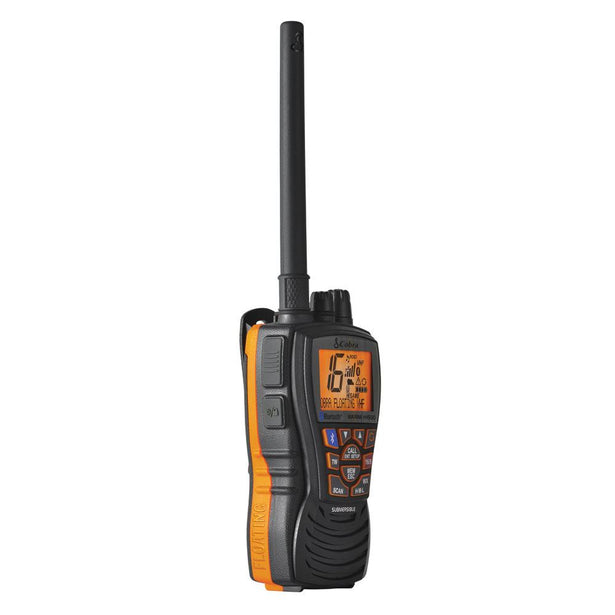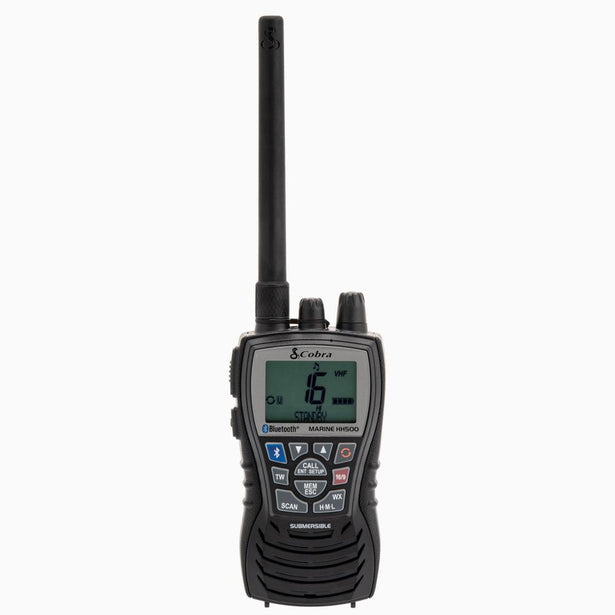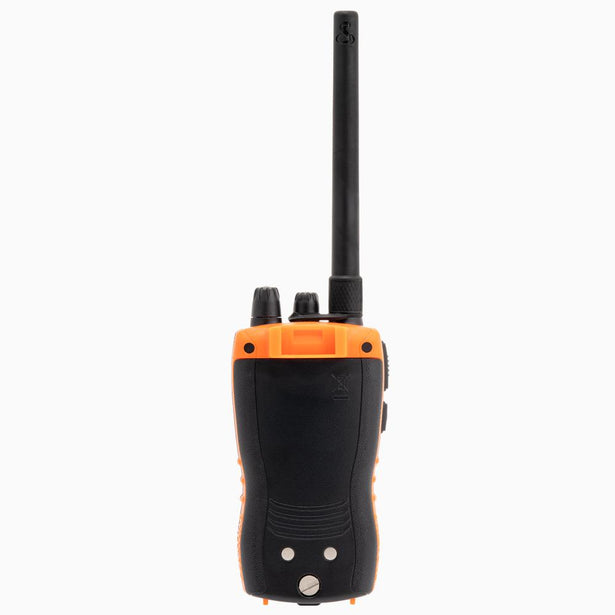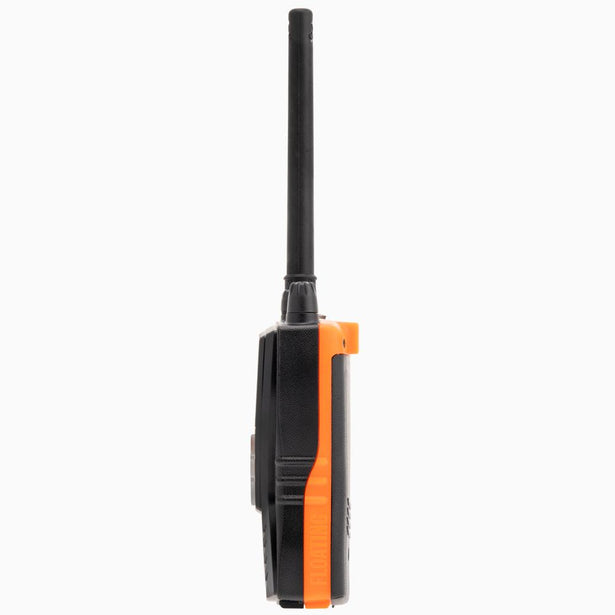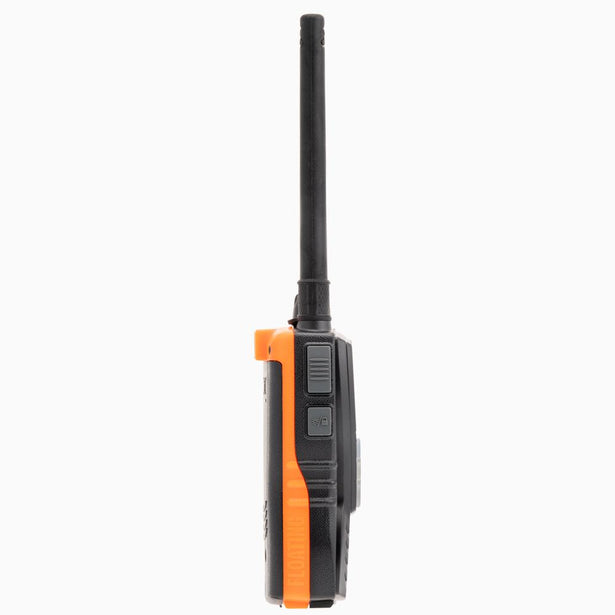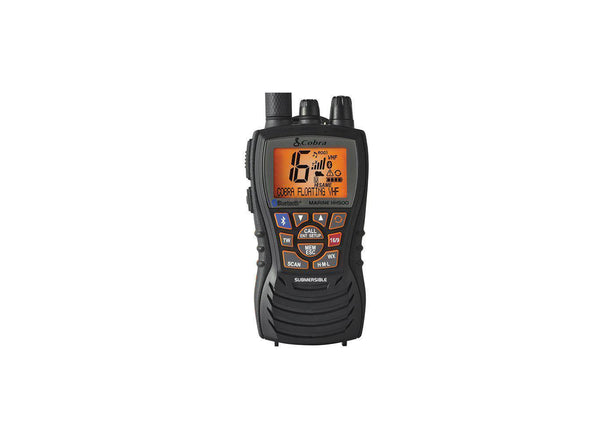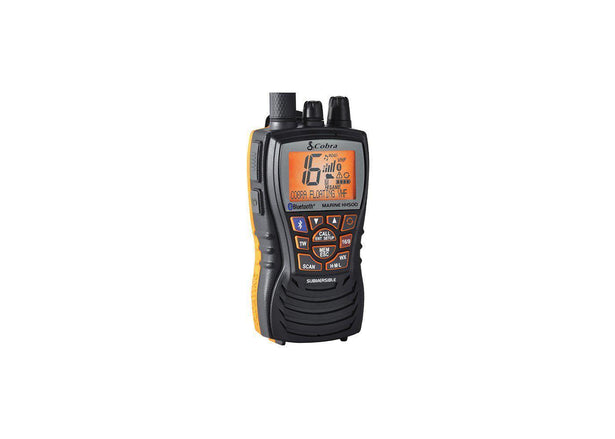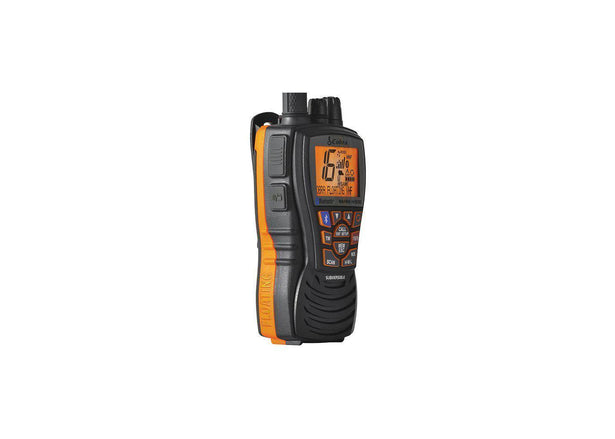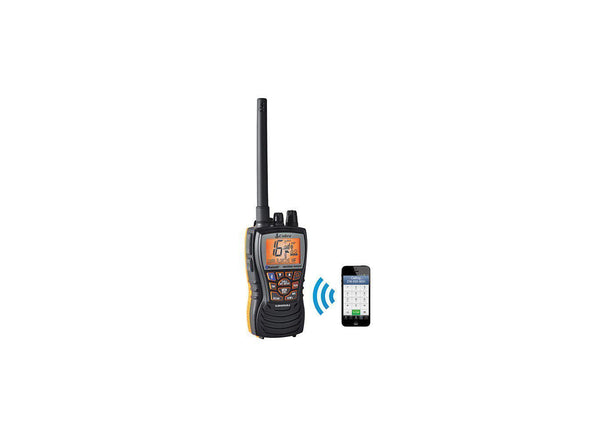 Cobra MR HH500 FLT BT EU
6 Watt Floating Handheld VHF Radio
Customers who bought the Cobra MR HH500 FLT BT EU are saying:
More Reviews
Cobra Advanced Technology
Built-in GPS ensures accurate location when calling for Coast Guard assistance in a time of need. Rewind-Say-Again™ allows you to record and replay the last 20 seconds of a VHF call. Dual All-Terrain Radio™ designed for land and water use.
Nothing Comes Close to a Cobra
When heading out on the water, a VHF radio is vital for communication and safety. With advanced safety features, easy menu navigation, and 24 hr access to emergency alerts and broadcasts, Cobra's got you covered.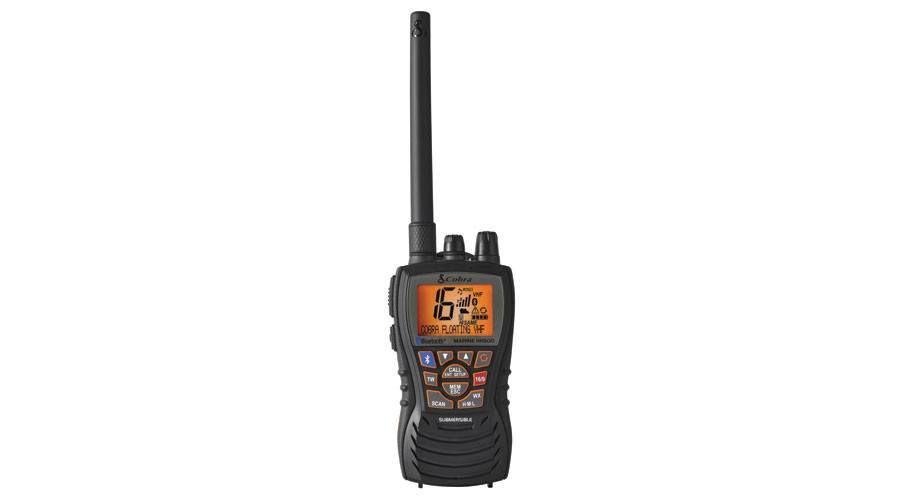 Bluetooth® Wireless Technology
Keep your phone safe and dry by making calls directly from your radio with added Bluetooth® capabilities.
Rewind-Say-Again®
Automatically records the last 20 seconds of VHF calls so you can always play back what you missed.
Floating Design
The orange core floating design means easy retrieval if dropped overboard so you never lose your radio.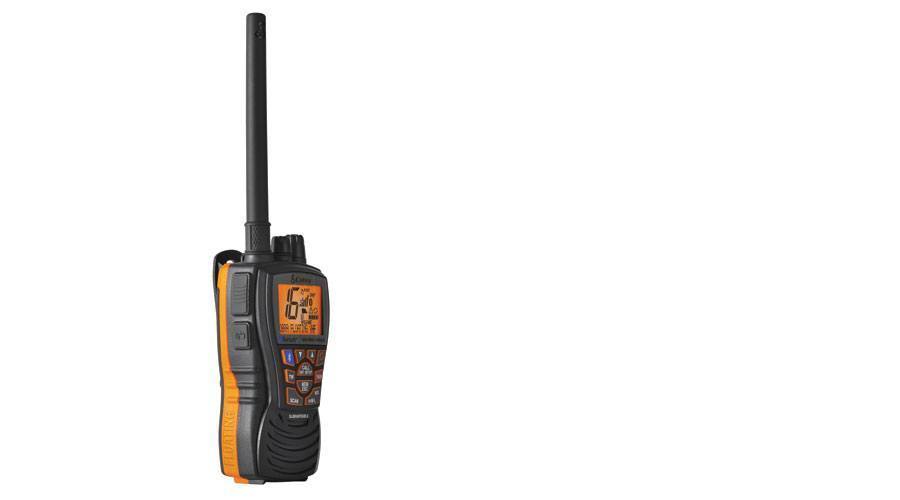 Noise Cancelling Microphone
Block out background noise and have more clear conversations.
6 Watt VHF
Select between 1, 3 and 6 watts of output power for short and long range communication
Selectable Power
Get different options for low, medium, and high power for various range of communication.

Bluetooth®
Make and receive phone calls while keeping you phone safe and dry
Selectable Power
Choose between 1, 3, and 6 watts for short or long communication

Rewind-Say-Again®
Replay the last 20 second of missed VHF calls

Floating Design
Orange core, floating design means you'll never lose your radio

Illuminated Display
Clear, illuminated display makes reading radio information easy

Noise Cancelling Microphone
Make crystal clear transmissions
Item # MR HH500 FLT BT EU
SPECIFICATIONS
Weight 0.59 Lbs (262.00 g)
Height 4.75" (121.00 mm)
Width 2.66" (67.00 mm)
Length 2.09" (53.00 mm)
FEATURES
Bluetooth® Wireless Technology - Keep your cell phone safe and dry by pairing it to the radio.
Rewind-Say-Again® - Replay missed VHF calls.
Floating - Never lose your radio. The floating design and orange core make retrieval easy if dropped overboard.
Noise-Cancelling Microphone - Blocks background noise for clearer conversations.
6 Watt VHF - Select between 1, 3 and 6 watts for short and long range communication.
What is the range of my Cobra marine radio?
It is difficult to provide a number, because range will be affected by the following factors:
Transmit power: Higher transmit power gets better range. Transmit powers up to 25 watts are allowed.
Length of the antenna: Short antennas will get shorter range.  Long antennas will get longer range.
Height of the antenna: The higher the antenna is mounted, the better the range.
Antenna tuning: Having a properly tuned antenna will maximize your range. Checking the SWR of the antenna will identify how well your antenna is tuned to the marine band.
Atmospheric conditions: Atmospheric conditions can affect radio propagation. If conditions are just right, there are times when you can transmit 100 miles or more. On other occasions you may be limited to only 10 miles.  Although these extremes occur infrequently, it does serve to illustrate the effects of atmospheric conditions.
Your location: Your location will also influence the range. For example if you are located on an inland waterway where buildings and trees can block your signal, you will get less range than if you where in the middle of the ocean. With a handheld radio your range will vary depending on whether you are inside the cabin (worst range) or standing on the highest portion of the deck (best range).
Battery condition (handheld models):  Low batteries will cause your transmit power to drop, which will reduce your range.
The combination and severity of the above factors will determine your range. Several of these factors can change on a day-to-day basis.
If we were to eliminate all the negative effects, a properly setup mobile radio transmitting 25 watts will communicate as follows:
-A powerboat communicating to another powerboat: approximately 20 miles.
-A powerboat communicating to a well-equipped shore station: approximately 50 miles.
-On a sailboat with the antenna mounted at the top of the mast, communicating to another sailboat: approximately 40 miles.
-On a sailboat with the antenna mounted at the top of the mast, communicating to a well-equipped shore station: approximately 80 miles.
Handheld radios will communicate as follows:
-A 5 watt handheld will communicate approximately 7 miles to another handheld, or approximately 20 miles to a well-equipped shore station
-A 2 watt handheld will communicate approximately 5 miles to another handheld, or approximately 15 miles to a well-equipped shore station
What is DSC (Digital Selective Calling)?
Digital Selective Calling (DSC) is a radio technology allowing enhanced distress radio messages to be sent digitally. In addition, a DSC equipped vessel with an MMSI number can make a "private" hailing call to another DSC-equipped vessel. Only the vessel being called will receive the initial contact, but the subsequent conversations will take place on an open, "working" channel, which can be monitored by any VHF equipped vessel within your broadcast range.
What is a Maritime Mobile Service Identity (MMSI)? 
Maritime Mobile Service Identity (MMSI) is a unique 9 digit number that is assigned to a (Digital Selective Calling) DSC radio or an AIS unit. Similar to a cell phone number, your MMSI number is your unique calling number for DSC radios or an AIS unit. The information provided when obtaining a MMSI number is transferred into the U.S. Coast Guard's national distress database for use in emergency situations.
Is there a fee to obtain an MMSI? 
MMSI numbers are free for BoatUS members or $25 for non-members. To obtain a new or change your existing MMSI#, visit: https://www.boatus.com/MMSI/MMSI/ObtainMMSI#! 
Why should I register my VHF radio and obtain an MMSI number? 
Your VHF radio is the single most important piece of safety equipment you can have on board your vessel. By using a VHF radio with Digital Select Calling (DSC) capability, you increase your safety dramatically by taking advantage of enhanced communications options. These options link you to other vessels and rescue facilities, providing a strong, modern safety net not offered by mobile phones while in the water. 
Why is it so important to have a DSC radio with built-in GPS and/or the option to connect to an external GPS?
Having a built-in GPS in a emergency, one push of the Distress button, transmits the distress signal containing your MMSI# and location Lat/Lon information to USCG and all other DSC capable receivers within your broadcast range. Should (you) the operator become incapacitated, the radio will continue to send the mayday signal.
If your DSC radio does not have a built-in GPS, the Coast Guard urges, in the strongest terms possible, that you take the time to interconnect your DSC-equipped radio to an external GPS. Doing so may save your life in a distress situation! Here is a link to an external GPS available from Cobra 
https://www.cobra.com/collections/marine-accessories/products/cm300005cobrapositioningsystem
Why join Sea Tow? 
As the official VHF radio of Sea Tow, we recommend it. It is the #1 choice of boaters nationwide for boat towing and expert on-water assistance. Membership offers discounts on fuel, boating supplies, restaurants, and gives you an experienced captain standing by 24/7 in case you need help while out on the water. Joining Sea Tow will help prevent out of pocket expenses and save you valuable time in the event that you do need a tow. 
Customer Reviews
05/01/2021
Stew

GB
Great Radio
The phone pairing makes this a no brainer, if I had 1 small gripe though it is a shame the spring for the rear clip wasn't stainless steel, mine corroded and broke on 3rd use. Other than that great.
02/02/2021
John W.

US
Impressive Features
Once paired, I can keep my expensive phone safe and use this little guy to make and receive phone calls. And if I drop it, guess what, it floats. Awesome idea Cobra!
So glad you are enjoying it!
GREAT RADIO
DOES WHAT IT SAYS. JUST WISH THE AUDIO WAS NOT AS GARBLY AND A LITTLE MORE CLEAR. PAIRED WITH MY IPHONE 6 FINE. JUST REMEBER TO PRESS ABOUT 4 SECONDS TO MAKE IT GO INTO PAIRING MODE WHEN YOU ARE FIRST SETTING IT UP. AFTER THAT IT IS A BREEZE. IT PAIRS LIKE A DREAM WHEN YOU GET NEAR THE RADIO I FEEL A WHOLE LOT BETTER BEING ABLE TO TALK ON MY IPHONE AND NOT TAKE IT OUT ON THE DOCK AND WORRY ABOUT LOSING MY EXPENSIVE NEW IPHONE 6 OVER THE SIDE. HURRAH
Wow what a radio
I have just got one of these radios for when Im on the water on my kayak. Its handles calls so well through my iPhone stored safely away in a dry locker. The battery lasts for days. What a fantastic product.
05/04/2021
Peter D.

GB
HH5500 is a great little number but does have some weirdnesses
First, this is a great vhf radio. But there are some quirky things that you might like to know... First is that it allows you to connect a cell/mobile phone via bluetooth which could save your phone from a dunking. I was expecting to be able to use it with a BT headset as well, but no. You can buy their own headset but you can't use an existing BT headset. Shame. I haven't tried the phone feature and probably won't use that capability. The charging stand is fiddly. You can either have the insert to the stand in, in which case you can charge the lithium battery by itself or take it out and have the whole VHF unit in the stand. But getting the battery out is a little fiddly as you need to undo a screw. Sure this helps with the waterproofness but makes it clumsy to remove. Would only do it if I needed to use the 5AA battery pack blank that they provide for emergencies. You can have either mains or 12v charging, but you have to use the stand to charge. No way to connect the battery directly to the handset. Again probably helps with waterproofness but I now need to buy a second stand. I want to be able to charge using 12v on my boat and then bring the unit home and charge via mains charging. Manual is clear. You get a good selection of accessories in the box. But I would have liked to know that the stand is essential to charging and would have bought a second at the time to avoid more shipping charges. They also make a big deal about bluetooth and maybe the use case is what others want, but I would have liked the option to use my own BT headset.
Short range
After that me and my friend bought 2 of these radios for Communication between our boats were we chocked about the range of the radios. We could not speak to each other if it was 1 nautic mile between us. That is not OK...
Great Features Questionable Quality
Radio started out great. I loved the features, battery life, etc... Unfortunately during the second season of use the display stopped working. The unit has never been dropped or submersed in water but still quite working. With all of the features and functions of the radio navigating them without a display is impossible. I am currently contacting Cobra's customer service to see if they can replace the unit. Otherwise I am looking for a replacement.
Came so close to a grand slam with this one.
The features of this radio are fantastic and this radio is almost perfect for my use except one huge crippling failure, the speaker is far far too faint, its even hard to understand when I drop to idle let alone when underway. If they had simply used a more powerful driver for the speaker this radio would be a grand slam, but as it is since I can am completely unable to make out any transmissions unless holding the radio to my head while underway, this thing is pretty useless unless in emergency situations.
You May Also Like: